Emergency Travel MEDEVAC Air EVAC Insurance

Watch 2 ½ minute video clip

Travel MedEvac plans are underwritten by either Nationwide Mutual Insurance Company and Affiliated Companies, Columbus, Ohio or GBG Insurance Limited based on the plan selected and your country of residence.
Air Medical Transport to Your Home Hospital of Choice
Ground Ambulance Transport from Hospital-to- Hospital
Return of Dependents:
Visitor Transportation:
Return of Stranded Vehicle, RV and Watercraft
Disabled Driver Vehicle/RV/Watercraft Return
Transport and Repatriation of Mortal Remains
Transport of Traveling Companion or Family Members

New! Combination Travel / Medical & Air EVAC Home in One!
Evacuation services are available for anyone, regardless of residency.
Comprehensive Travel Insurance and Evacuation with Medical Expense coverages available on a per-trip basis.
Security Extraction coverages for non-medical events such as natural disaster, acts of terror and more can be added to any option.
No age limit on air evacuation coverage.

Adventure Seekers!
Are you an adventure seeker? Climbers, skiers, expeditions, safaris etc. Are you traveling to a remote location or anyplace where immediate access to quality medical services is not available?

Budget Minded Traveler
Travel inside or outside USA – lowest price.

Travel Medical Insurance
Short-Term Travel Insurance Patriot Travel and Patriot Travel Platinum
Multi-Trip Annual Policies Low Rates!
Senior Globe Hopper Single and Multi-Trip
Students – Crew Members – Mission Coverage
Group Policies
Scroll down in this site for MANY choices!
iTravelInsured Combination Travel Trip Cancellation
Insurance that covers trip cancellation, travel delays and other losses incurred while traveling
Travel insurance program for trips up to 31 days
Standard Coverage for trip cancellation and interruption
Emergency medical expense, evacuation, and reunion benefits
Three product options for varying levels of coverage
Cancel for any reason option
Pre-existing conditions coverage option

Medical Tourism Travel Insurance
Medical Tourism MEDEVAC Home Insurance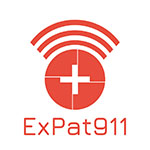 Expat911 is a smart phone app that was created to give you "peace of mind" while vacationing or living in Mexico. The Expat911 app allows you to report any type of emergency (Fire, Police or Ambulance /Medical) by simply clicking a button within the app downloaded on your smart phone. An English speaking, ExPat911 operator will be in direct contact with you as soon as you activate the Expat911 app. A bilingual Expat911 operator will then report your emergency and your exact GPS location, on your behalf, to the correct Spanish speaking Mexican authorities, depending on the type of emergency you are experiencing. No more worrying whether your Spanish skills will be up to the task of reporting an emergency! No need to worry about the delay and confusion caused by a language barrier at the time of an emergency. Expat911 is the only company in Mexico with a 24 hr., bilingual English/ Spanish speaking staff on hand to assist at the time of your emergency.